The truth is that one of the most challenging renovation projects are the ones for a condominium space. You have several restrictions to comply with, while almost any structural change for interior improvement will most likely be forbidden. Still, there are a couple of tips and tricks that can help you refresh your condo's appearance.
Here are the 6 ways to add value to your condo
1. Change your appliances
One of the features that stir the interest of a potential buyer is the appliances. Old appliances might have some exciting flair, but as a common rule, no one wants to use them. Almost any buyer nowadays seeks to have the latest devices in their kitchen. So, if you're going to increase the value of your condo, you should upgrade from old appliances to stainless steel ones. These will provide a stylish and functional appearance to your kitchen.
2. Upgrade the kitchen
Of course, there are several improvements you can make to your kitchen, besides changing appliances. This is the center of your home, so you will want it to be smooth and up to date. So, to boost your condo's value, you can change cabinets, countertops, or sinks. And adding extra lightning solution might turn out to be a big plus. Market studies reveal that buyers are more prone to complete a purchase if the kitchen is upgraded and features a lot of lighting solutions.
3. Re-paint the rooms and replace the floors
Floors, walls, and ceilings establish the deciding factor in a buying process. You should remove old floors, stained carpets, and mend cracked walls. These can become a turn-off, and decrease the overall value of your condo. With a small investment in a re-painting job, you can significantly improve the appearance of your condo. Also, replacing the floors can be an excellent addition, as those offer a rather sleek look to any interior.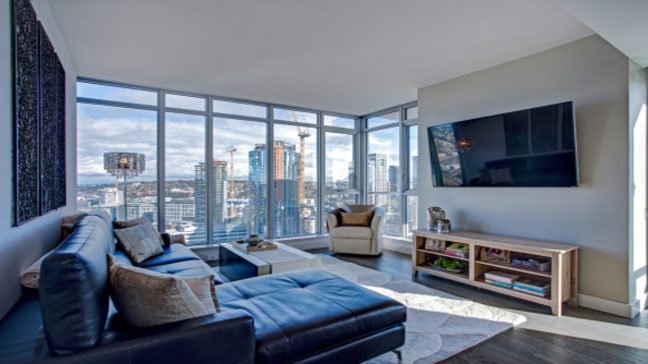 4. Renovate the bathroom
Usually, condo bathrooms are notably smaller than the house bathroom. And because of this limited space, any small improvement can have visible benefits. Changing countertops, tile flooring, or light fixtures can add value to your condo. Besides, you can always change the showers or sinks, but for this, you will have to verify with your condo board about the limitations before your condo renovation.
5. Add ambient lighting whenever possible
Condos are fancy living spaces, so why not underline this feature? You can do so by installing several lightning solutions that will definitely improve the entire appearance of the area. Dimmer switches are the most sought characteristics, while warm bulb lights are preferred instead of the white ones. The purpose is to make the interior appear as comfortable and cozy as possible.