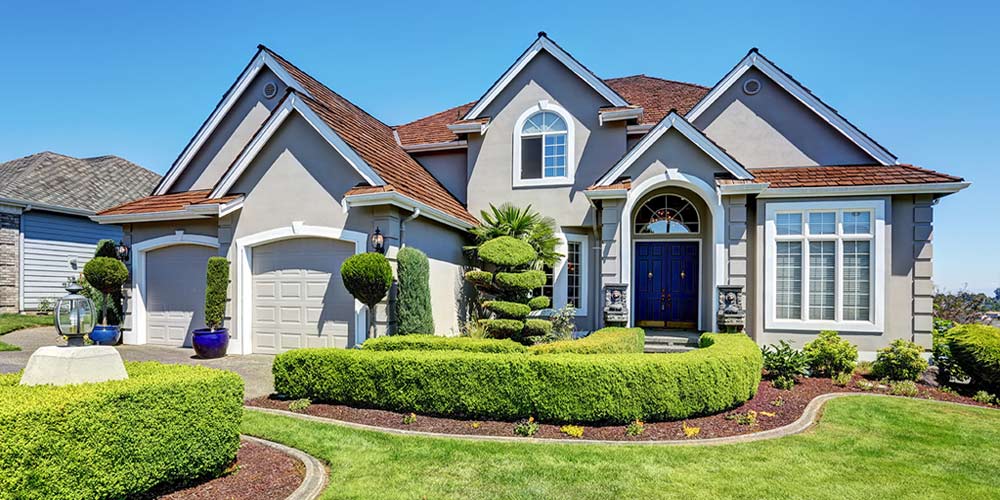 Whether you're looking to sell your home soon or make your property a better investment, enhancing the curb appeal of your home is one sure way to increase its value. Upgrading your home into an über-attractive abode that appeal to buyers interests at the first glance and keeps your guests and neighbors raving for months to come is achievable with minimal budget. Another good thing about working on improving your home's curb appeal is the satisfaction and sense of pride you derive from completing each project.
Listed below are 5 inexpensive ways you can increase the curb appeal of your home;
1. UPGRADE YOUR WINDOWS AND DOORS
Once the windows and doors in your home are bad, you can be certain the curb appeal of your home has been reduced by half. Doors and windows play major roles in lifting the curb appeal of any home. So, if your windows and doors are damaged, consider inviting an experts to get it fixed or completely replaced.
2. GET YOUR GREEN THUMB ON
Many interior and exterior home design experts believe a lush lawn is the ultimate curb appeal enhancer in any home and I can tell for certain there's is no lie in that. You can greatly transform your home and provide a most welcoming ambiance with a few fresh potted plants placed on your front entry or porch. Also planting seasonal flowers to add extra curb appeal will definitely make your home the envy of the entire neighborhood.
3. WASH YOUR WINDOWS
Clear and clean windows is one unnoticed secret that makes your home stand out in the neighborhood. Windows are essential fixtures that make your home pop anytime of the day. Keeping them clean and clear will go a long way in speaking volumes of your kind of person. Aside from brightening up your exterior and giving your home a unique spark, clean and clear windows increase the amount of natural light that comes into your home.
4. SHED LIGHT ON YOUR PROPERTY
All kinds of lighting have their benefits. Knowing exactly what kind of light to get for certain areas in your home is the secret to leveraging the full-power of lighting fixtures. Getting the right kind of exterior lights will make your home look regal and stand out. Path lights and lampposts work to boost your home's security and enhance visibility for you and your guests alike.
5. CLEAN THE ROOF
The roof of your home is the shield that protects you from harsh weather and precipitations. Just like any other part of your home, it needs to be taken care of as well. Asides from this, the roof is a very noticeable feature that very much contributes to the curb appeal of your home. To improve the curb appeal of your home, constantly remove debris from the top of your roof. If your roof or the shingles are damages, replace it as soon as possible before it leads to other costly damages.